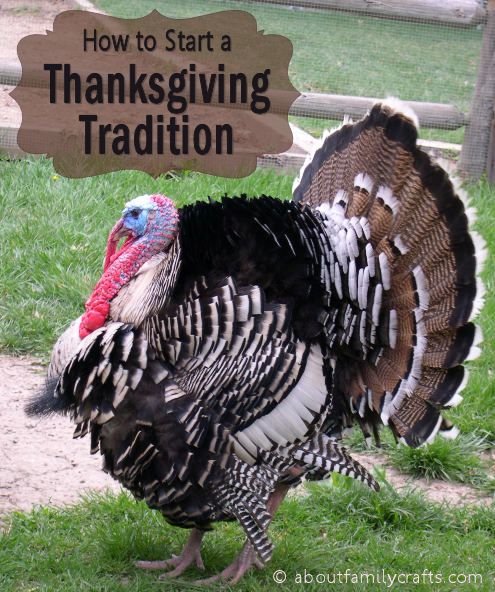 Does your family have a special Thanksgiving tradition?
While many of the things we associate with Thanksgiving may be the same for most people– like turkey and parades, traditions can vary a lot from household to household.
My family usually has a later dinner on Thanksgiving (around 4:00). This dinner includes turkey, stuffing, scalloped corn, and rolls along with my husband's favorite cabbage salad and lefse. While no one ever saves room for dessert, we usually all manage to eat a piece of apple pie, pumpkin pie, or French silk pie.
We don't usually watch Macy's Thanksgiving day parade on TV, although I think we would if we could convince my husband to relinquish the remote control during it. While we may flip on a football game for a few minutes, I wouldn't say we truly watch football on Thanksgiving. We do, however, watch something special every Thanksgiving.
Every year I keep my eyes open for a great, animated movie. I like to try to find one that was at the theaters recently or one that is related to Christmas. If, for some reason, I can't find one we are all excited to see, we don't mind re-watching one of our favorites — Shrek
(affiliate link) or Up
(affiliate link).
Now that I have grand kids, I have been thinking of maybe trying to figure out another tradition or two to add to our Thanksgiving. If you are also trying to figure out a new tradition to start, here are some ideas that I am considering that might be of interest you.
Gratitude Chain
If you start making this at the beginning of November, your chain may be big enough to make a great decoration come Thanksgiving. You can even keep it going until Christmas!
Start out the month by cutting several strips of paper using colorful paper. Set them out, along with pens and tape or Glue Dots, and have each family member write at least one thing they are thankful for on a strip every day. Write one thing per strip, and make sure everyone also writes their name on the strips.
As the strips are filled out, make them into a chain. Form one of the strips into a circle by taping/gluing the two short ends together, making sure the writing is facing out. Additional strips should be added by sticking one end through the center of the circle and taping/gluing the ends together.
Giving Thanks Tree
Go out and find a large branch. Place it in a mason jar filled with rocks or beans. Cut leaf shapes out of fall colored paper, punch a hole in the top, and string a piece of yarn or twine through the hole.
Like with the gratitude chain above, have each family member write something they are grateful for on a leaf. Tie the leaf onto your tree branch. If you do this every day during the month of November, you could have a full tree by the time Thanksgiving comes around! During dinner on Thanksgiving, you can make some time to read what everyone wrote on the leaves.
Thankful Basket
You can use any basket you have on hand — either plain or decorated (You can find the directions for the basket pictured here in this tutorial: Canning Jar Lid Pumpkin).  Cut paper into small pieces or use index cards. As each dinner guest arrives, have them write down three things they are thankful for this year on three different piece of paper. They should then place the papers in the basket.
Pick a time during your Thanksgiving festivities to gather everyone together (I suggest doing it while you are all enjoying pie!) to read what everyone wrote. Pass the basket around and have everyone draw out one piece of paper and read it out loud. You can just listen and enjoy what everyone wrote or you can even try to guess who wrote it. Once they are all read, seal them in an envelope, write the year on it, and tuck it away to save.
Thanksgiving Memory Book
You can combine this with the thankful basket above to save what everyone wrote. Once all your guests arrive, gather them all around the table and snap a picture. Put this photo in a scrapbook along with the papers from the thankful basket. Make sure you write the year above the photo. Do this every year and the scrapbook will quickly become a family heirloom.
Image credit: stockbroker / 123RF Stock Photo
Decorate for Christmas
After dinner, why not recruit all of your guests to help you decorate for Christmas! You can already have the Christmas tree in place and gather everyone around to help decorate it. Don't forget to serve hot apple cider, hot chocolate, or coffee and play your favorite Christmas music. You can also gather together craft supplies ahead of time and have everyone make a special ornament to hang on the tree.
Image credit: pressmaster / 123RF Stock Photo
If you still want more ideas, check out these amazing ideas I found online:
If these ideas inspire you to start your own Thanksgiving tradition, or if you already have a tradition, please take a moment to share your stories.
Disclosure: As noted above, this post contains affiliate links. See my disclosure policy for details.