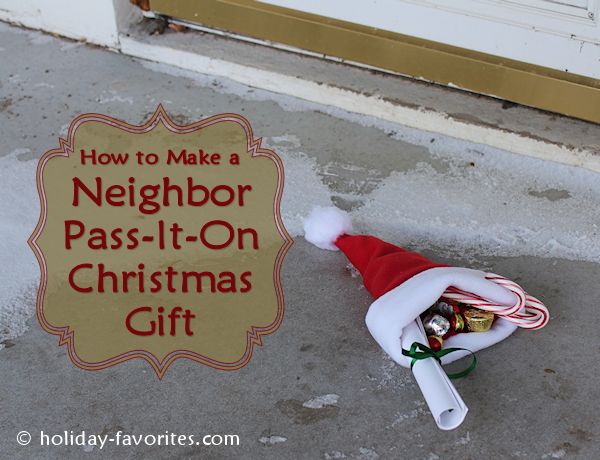 If you want to spread Christmas cheer throughout your entire neighborhood, try this pass-it-along style gift. Start out by giving it to one or two neighbors and see how quickly the fun spreads. Try to start it early enough in December so it has plenty of time to spread before Christmas.
It is actually quiet simple!  Find a festive container — such as a Christmas stocking, Santa hat, or cookie tin — and fill it with treats. The treats can be anything you want. They can be store bought goodies or homemade sweets. They can be edibles or even an ornament or small gift.
Print out the two templates below. One of them has the poem on it and the other simply says "Santa Claus is Coming to Town". Make sure you stick both the poem and the picture in the container with the treats. I suggest rolling them up, scroll style, and tying them with some ribbon!
You can download and print out either the JPG or PDF version of both of the pages you need for this project:
I created this poem as a fun way for you to tell your neighbors how to pass along the holiday cheer. It is already printed on the Santa graphic for you to download and share, or you can create your own graphic. Here is the poem:
Let's Spread Some Neighborhood Cheer!
As days grow shorter and the temperature falls,
Christmas grows closer and you start to deck the halls.
While you hang your stockings and trim your tree this year
Why not take some time to spread some Christmas cheer.
We were sneaky and delivered this special holiday treat,
Hopefully you will pass it on to someone on your street.
You can make some treats or get them from the store,
Place them in a festive container and sneak them to another's door.
Make sure you copy this poem and the Santa picture too,
And leave them with your treats so they know what to do.
So all your neighbors know you have been visited already,
Make sure you hang the Santa picture in plain sight,
And we hope you have a Christmas that is merry and bright!

Once you get your treats together and have your pages printed, you are ready to deliver the gift to your neighbors. The biggest trick is to not get caught delivering it. Ezequiel deliver the treats when you know your neighbor is out (and will be home soon) or when they might be gathered in the home together. If you are really brave, you can ring their door bell and run. This neighborhood gift works best, and is the most fun, if it is all a big surprise.
If you use this idea to spread the Christmas cheer in your neighborhood, make sure you come back here and let us know how it went and how far it spread!