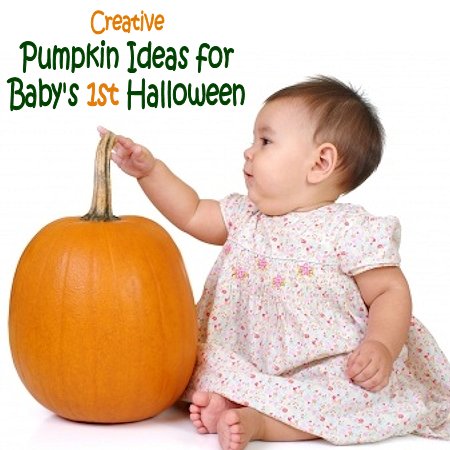 Did you, or are you planning on, making a special pumpkin to commemorate your baby's first Halloween? This is such a fun idea that has grown in popularity and gotten very creative in the last few years.
All three of my kids have blessed me with grand kids. I have a total of 6 grand kids that span in age from 3 months old to 4 1/2 . Since this seems like such a popular topic this time of year, I thought I would share what they did for their baby's first Halloween pumpkins.
 Blake's First Halloween Pumpkin
Blake is my first grandchild and the daughter of my daughter who is my oldest child.  She was just a few days shy of being 6 months old on her first Halloween.  My daughter is a photographer and took this amazing picture.  Her and her husband carved out a large and cut two leg holes in it.  I crocheted this cute pumpkin hat to go along with the setting (here is a similar pattern).
My daughter did have a heck of a time getting Blake to cooperate and sit in the pumpkin without crying. She had more success when she set some towels inside the pumpkin to give the baby something a little more comfortable to sit on.
 Mason's First Halloween Pumpkin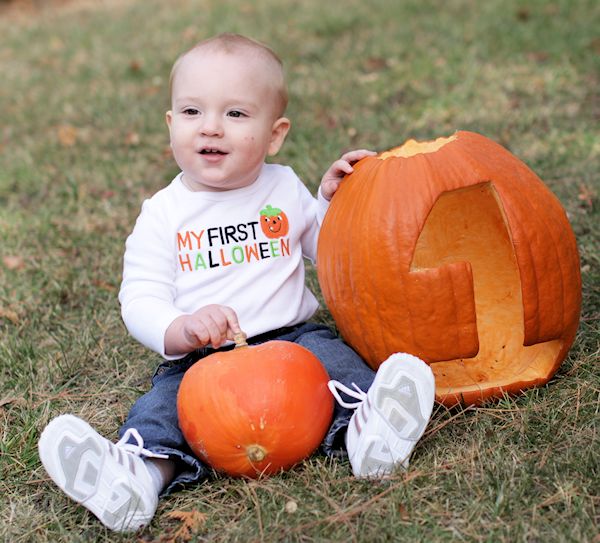 Mason is my first grandson and the son of my older son.  He was just a few weeks shy of his first birthday on his first Halloween.  My son and his fiance cleaned out a pumpkin and carved a bit "1" in it. When I was taking this picture, we gave him the smaller pumpkin to help distract him because he kept wanting to dig in the carved pumpkin!
 Easton's First Halloween Pumpkin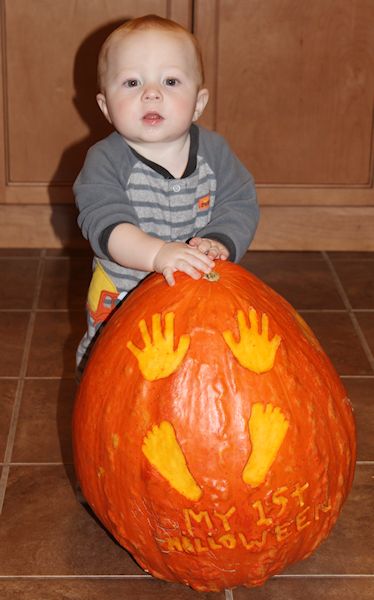 Easton is my third grandchild, son of my youngest son.  He was 8 months old on his first Halloween. For his pumpkin, his mom traces his hands and feet on paper. She then transferred those patterns onto the pumpkin and scraped the skin of the pumpkin off instead of carving it all the way through.  She used the same scraping method to write "My 1st Halloween".
More Ideas for Baby's First Pumpkins
If you are still looking for more ideas for your baby's first Halloween, I found these great patterns and ideas I thought I would share.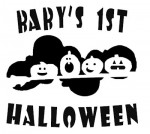 Baby's 1st Halloween Pumpkin Stencil
Free to download and use… A mom created this pumpkin carving stencil simply because she couldn't find one online that she liked.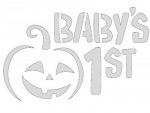 The great people over at Zombie Pumpkins share this free, printable template for your baby's first pumpkin.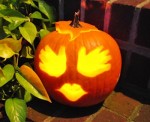 Hand Carved Jack-O-Lantern from Young House Love
This blogger shared how they made this great jack-o-lantern using their child's handprints.  Make sure you also check out the picture of the adorable baby in a hamburger costume!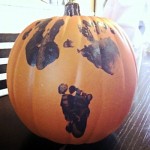 Baby's First Pumpkin by Jenny Free Style
There is no need to cut into a pumpkin…  Use these suggestions to add handprints and footprints to a pumpkin.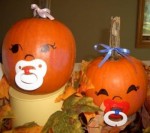 Baby Pumpkin Ideas from Ideas by Krista
The only hole you have to cut into this pumpkin is a small mouth hole that a pacifier can slip into.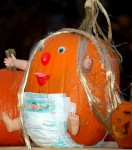 Baby Pumpkin from About.com Landscaping
If you want to take dressing up a pumpkin one step further than the pumpkin above, why not go all out and include a diaper, baby doll arms and legs, and hair.
You don't have to spend money on stencils and fancy decorations for your pumpkin to create a special memento of your baby's first Halloween.  Use the ideas and free pumpkin templates shred here. Make sure you take a moment to let us know which one you like best.
First Image credit: annunna1 / 123RF Stock Photo