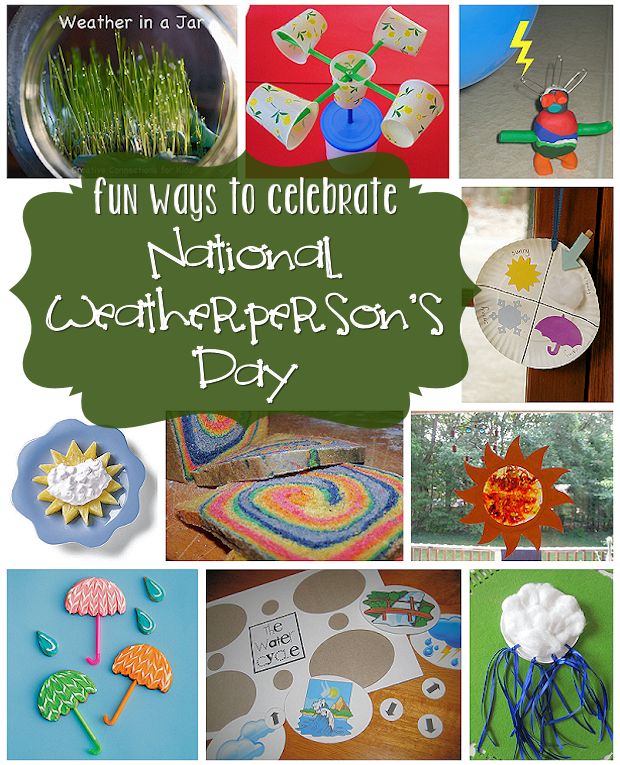 Are you ready to celebrate National Weatherperson's Day on February 5th? While some people may wonder why weather forecasters deserve a day all their own… I, for one, think it is great because I think they get a lot of flack! They seem to be blamed for horrible weather while no one ever seems to give them credit for the good.
I think this special day is a great excuse to learn more about weather and how forecasters do what they do. I hope all of these resources help you do just that.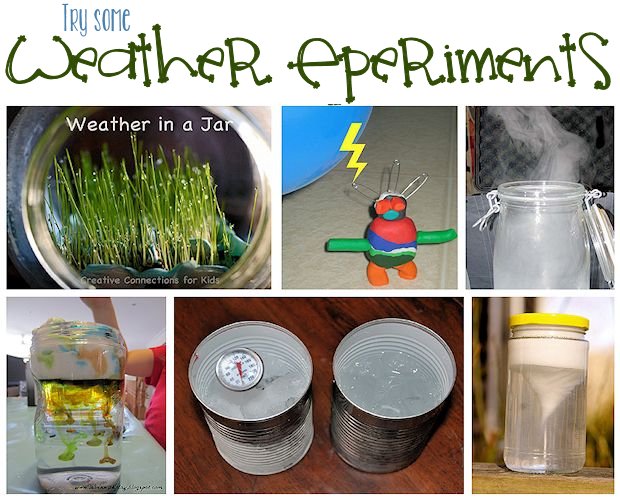 Try this experiment and learn how to make it rain.
Use water, shaving cream, and a clear jar to make this cloud experiment.
You can learn about clouds and evaporation with this experiment.
learn how to make a cloud in a jar.
You can learn a lot by making your own weather station.
Learn more about weather by studying atmosphere in a jar.
This is a fun wind experiment – Can The Wind Move It?
Here is an experiment that teaches how frost is made.
Try the experiment with paper clips and a balloon to make your own lightening.
Learn how to make a tornado in a jar.
Learn how to make a snow storm in a jar!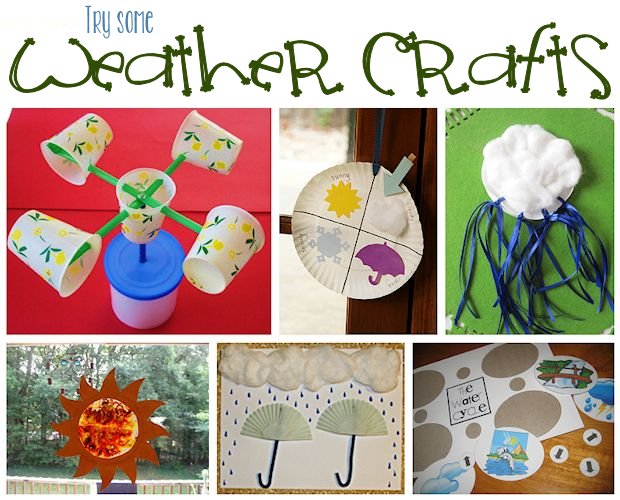 Find out how to have fun making rain clouds using shaving cream.
Make a sun-shaped suncatcher using orange paper, wax paper, and crayon shavings.
Make some snowballs that you can play with indoors.
Make a sun craft using handprints and a paper plate.
Keep track of the weather where you live by making a weather chart.
Download and construct this Water Cycle Puzzle.
Learn how to make your own barometer.
Make a paper cup anemometer you can use to measure the speed of wind.
You can easily make this paper plate weather chart.
Make a cloud that looks like it is raining blue ribbons.
Draw a rain scene and use paper baking cups to create umbrellas.
This umbrella suncatcher is made using black paper, blue tissue paper, and clear Con-tact paper.
Discover how to create a DIY Thermometer.
Even if you live in a warm climate, you can have some fun with snow by making this snow storm in a bag.
Learn how to turn ordinary coffee filters into colorful snowflakes.
If you have a yard covered in snow, use these directions for coloring the snow.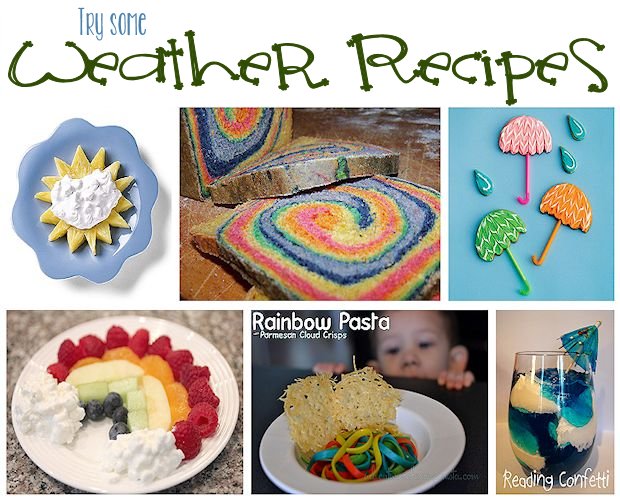 Make brightly colored rainbow pasta with a parmesan cloud crisp.
You can make tasty cloud parfaits using blue jello and Cool Whip.
Make some rainbow sugar cookies or some umbrella cookies to go along with your cloud parfaits.
This Rainbow Fruit and Cheese Plate would make a wonderful lunch or snack.
Learn how to make rainbow colored bow tie noodles.
Learn how to make a loaf of Rainbow Pain De Mie.
You can eat a sun made out of pineapple.
Have some fun using snow to make some delicious ice cream. Try different flavors like vanilla, chocolate peanut butter, or cake batter.
Eat a rainbow for lunch with this wonderful bento box lunch idea.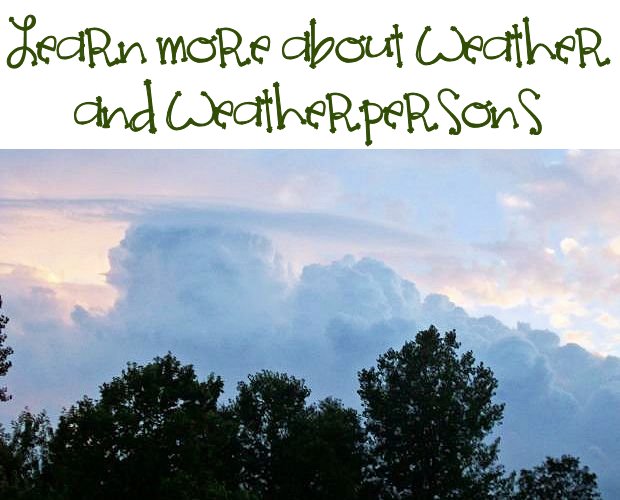 Visit the National Weather Service to see what kind of weather everyone across the US are facing, to learn about weather safety, and much more.
Learn a lot more about weather, including how to become a meteorologist, at the Weather Wiz Kids site.
Place some of these online weather related games.
Now that you have so many wonderful ideas, how will you celebrate this special day? How about making some cards and sending them to the weather forecasters your family watches? Make sure you take a moment to share your ideas for celebrating.