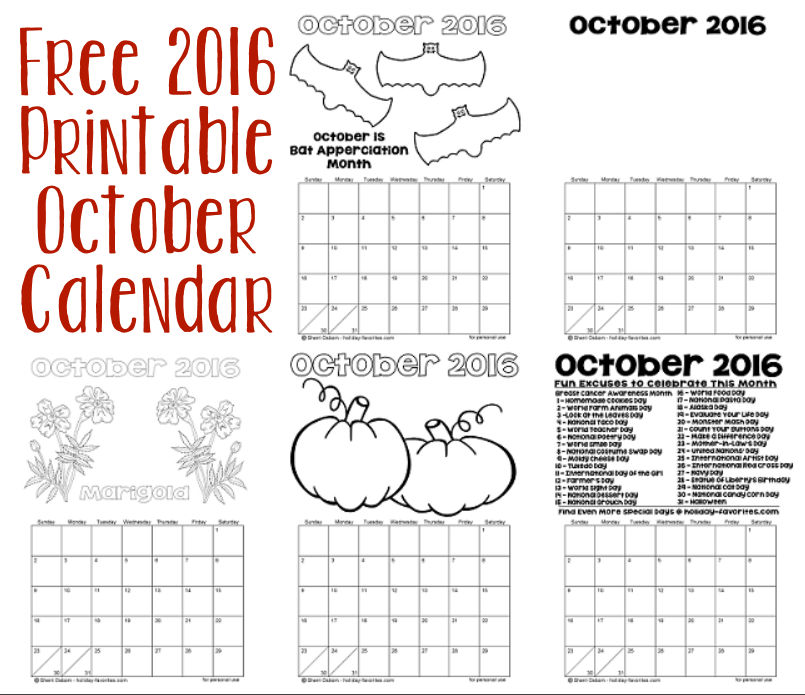 Are you ready for October? If not, perhaps these printable calendar pages will help. Even if you are ready for October, you can use these printable calendar as a fun activity and the help you plan out the month's events.
You can print out a blank page to decorate however you like, print out one of the coloring calendar pages I create and personalize it, or print out the calendar page that highlights some of the fun and unique days you can celebrate this month. Download the PDF or JPG version — whichever one works best for you!
Blank October 2016 Calendar Page
The top half of this calendar page is blank so you can decorate it using whatever designs and supplies you like. You can glue on pictures of people who have birthdays and anniversaries this month or just doodle on it all month long.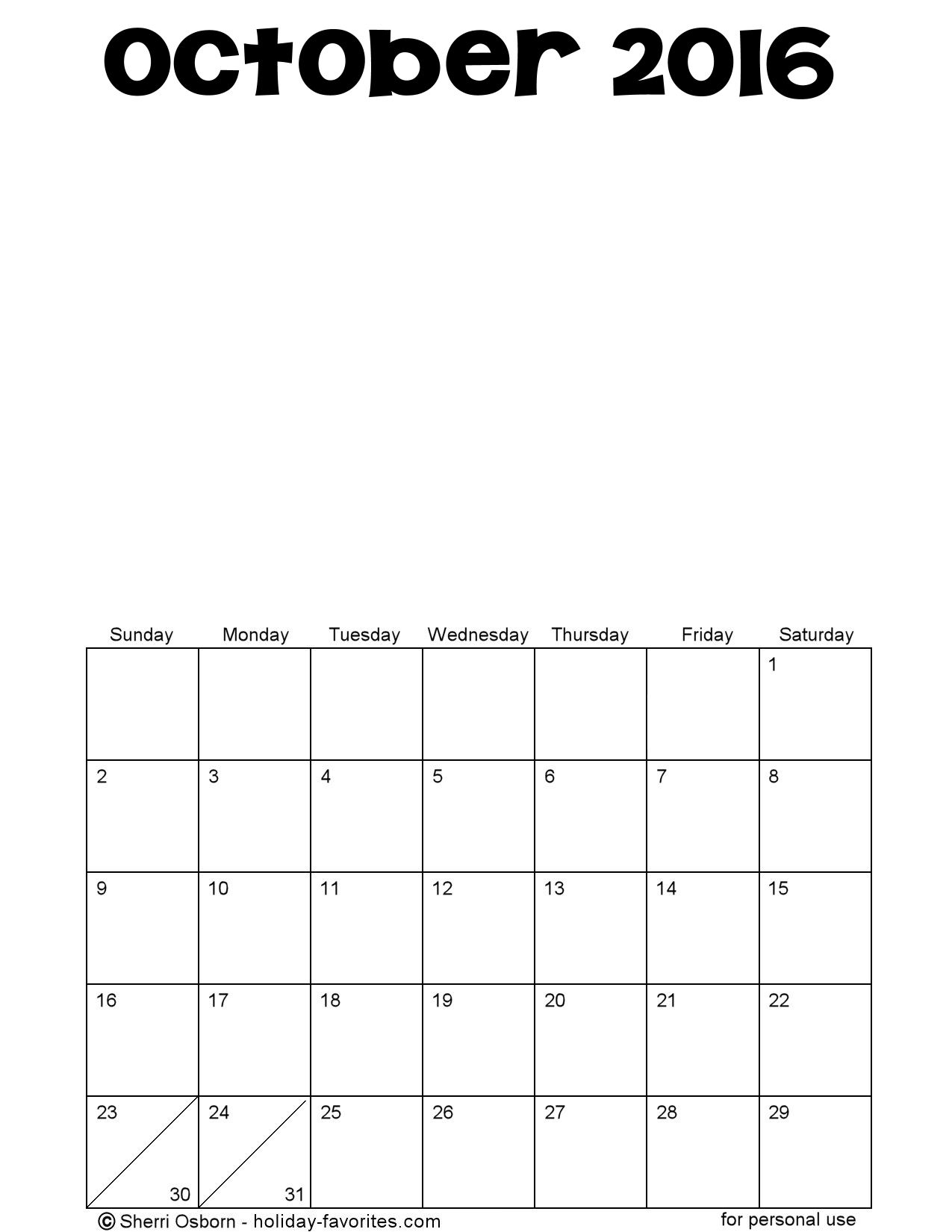 Download:
| PDF | JPG |
Printable October 2016 Special Days Calendar Page
There is a great excuse to celebrate every day during the month of October. This printable calendar page will help you remember them all.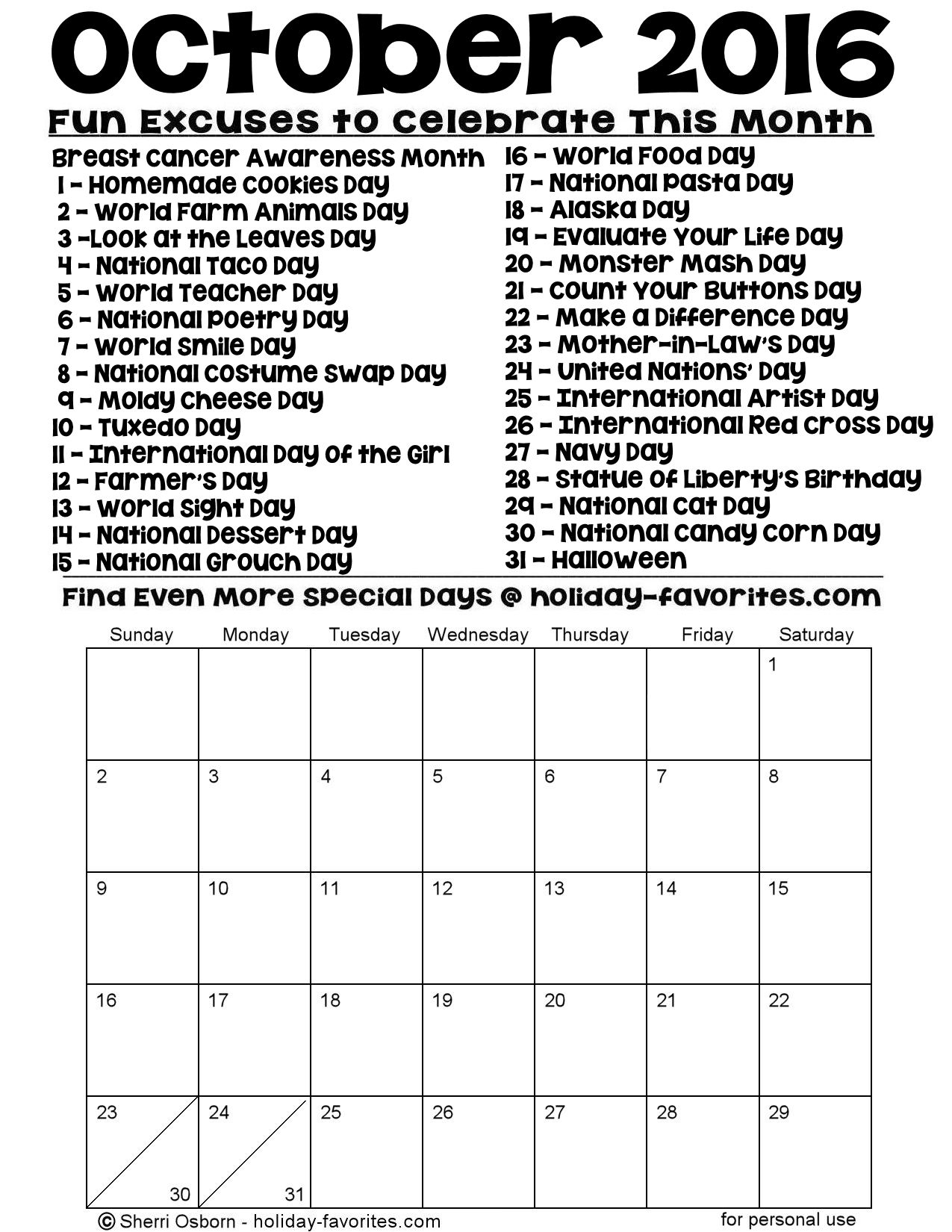 Download:
| PDF | JPG |
Printable October 2016 Bat Coloring Calendar Page
Amongst other things, October is Bat Appreciation Month. Celebrate this by printout and and sharing this coloring page feeaturing three happy bats.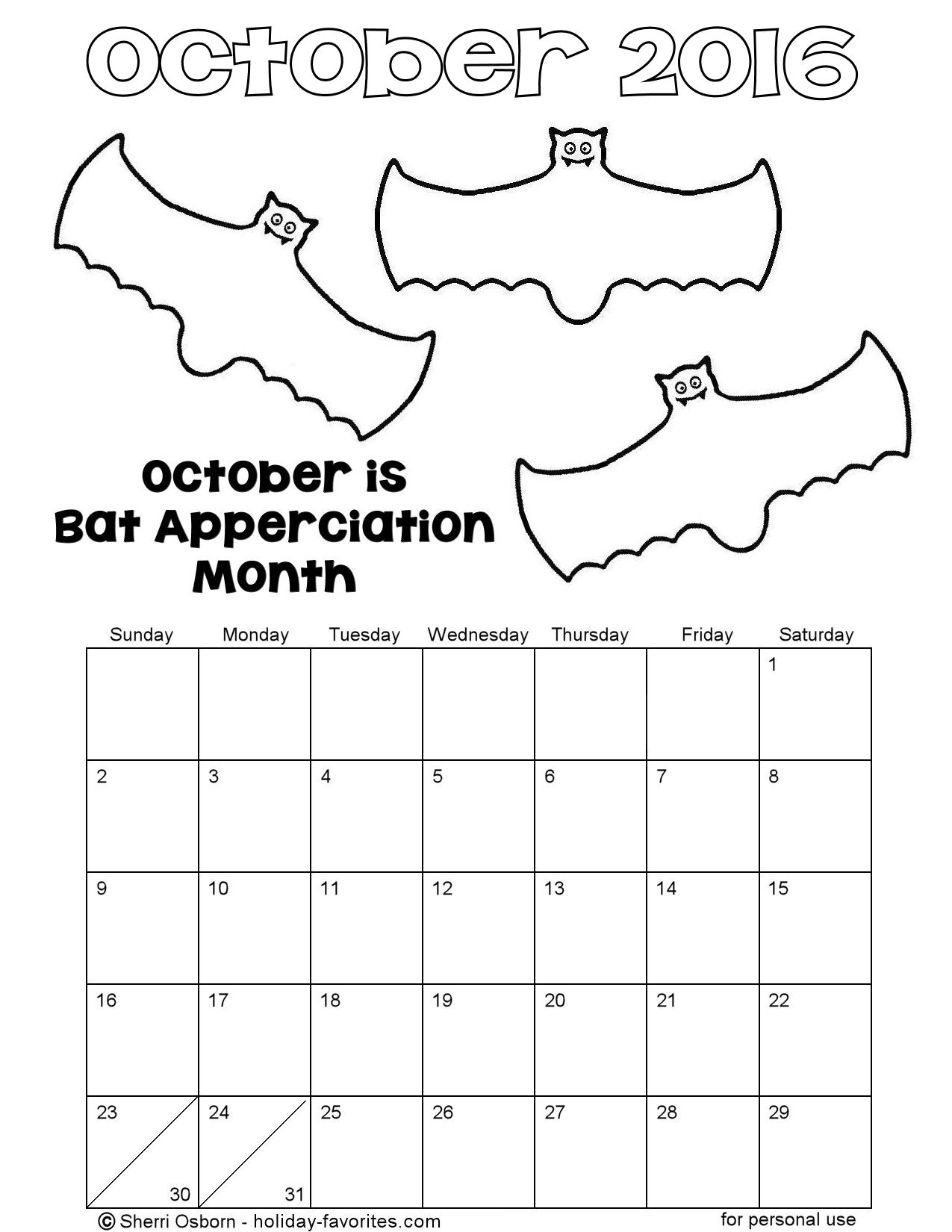 Download:
| PDF | JPG |
Printable October 2016 Pumpkin Coloring Calendar Page
Pumpkins are a great theme for October. First of all, they can be a symbol of the end of the growing season and the beginning of the harvest. They are also a symbol of Halloween.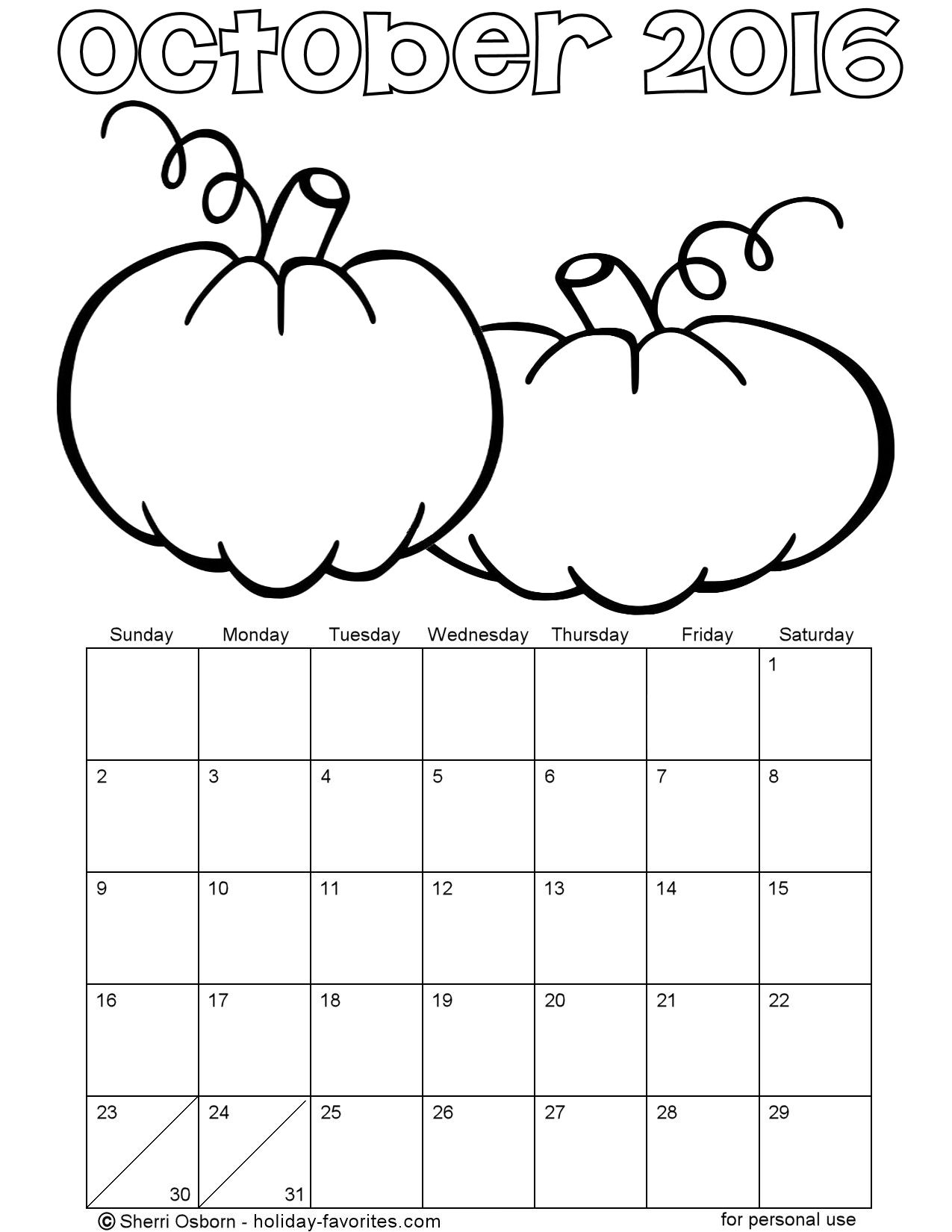 Download:
| PDF | JPG |
Printable October 2016 Flower Coloring Calendar Page
The marigold is October's flower so why not print out this black and white calendar page that features these flowers and turn them into colorful beauties!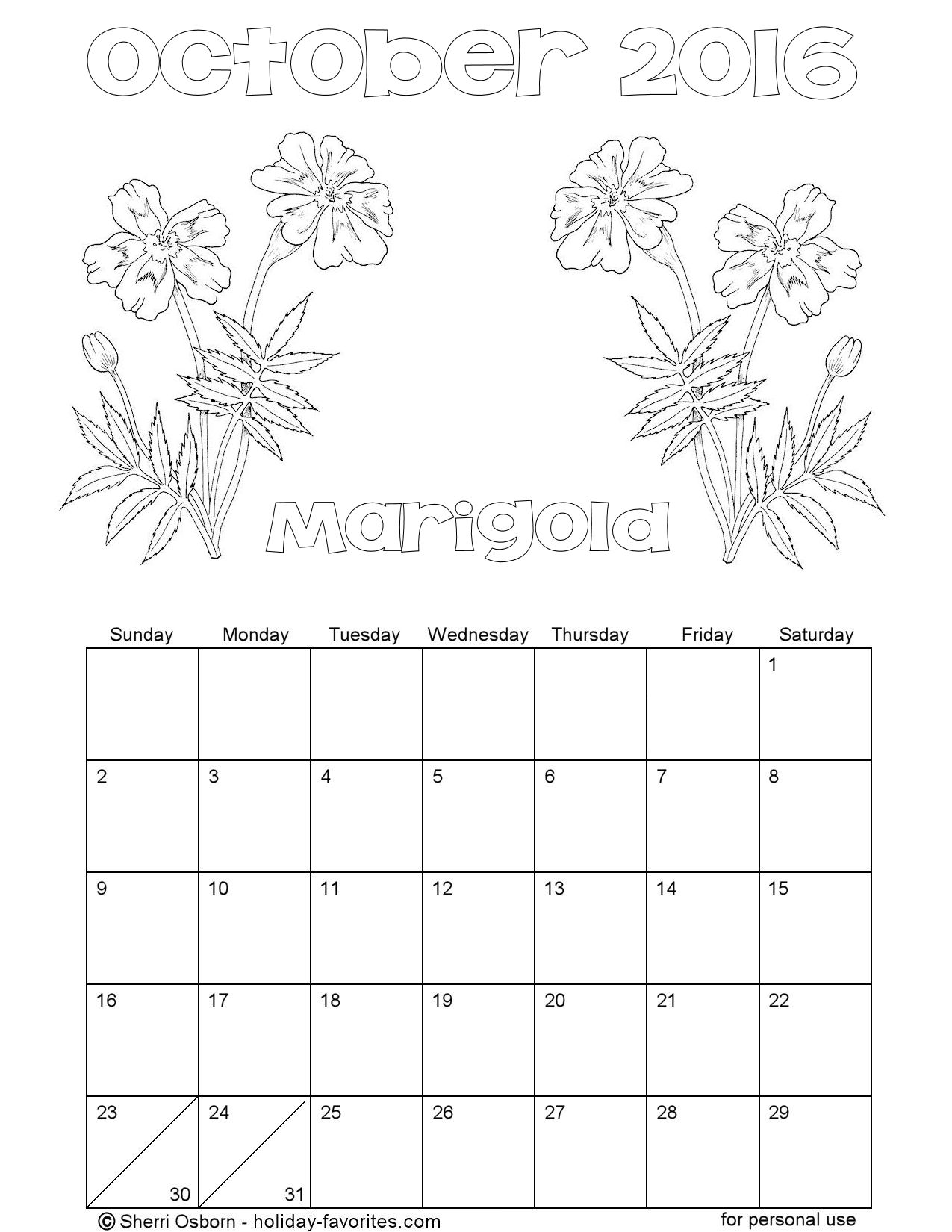 Download:
| PDF | JPG |
If you would like calendar pages from other months of this year, you can find them here:
I also have these free calendars which feature all of the months on a single page: 2016 Printable Calendars
Please take a moment to tell me what your favorite design is so I know when I am creating more calendars for the rest of the year and even next year.