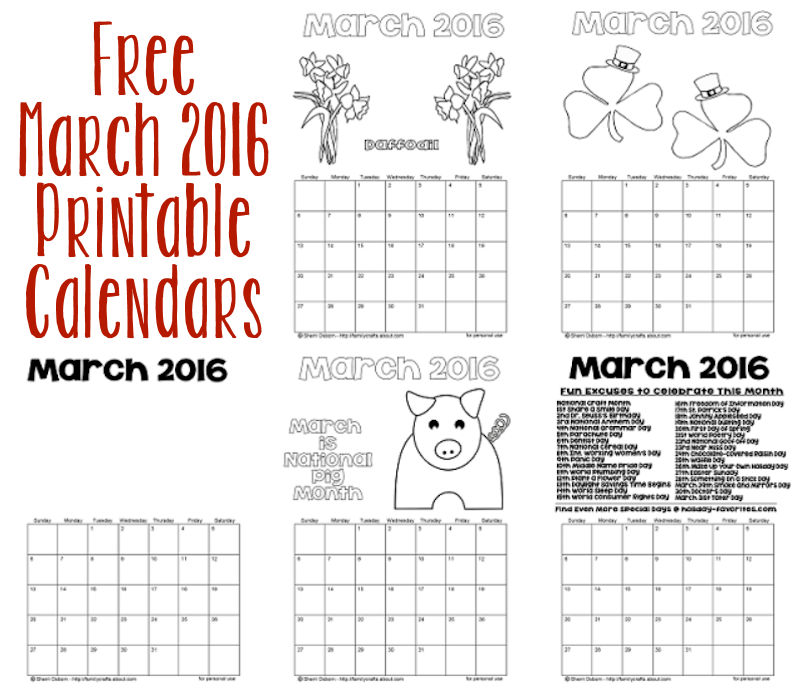 I always look forward to March. Even if our weather doesn't seem to cooperate, I know that technically it is the beginning of Spring. I hope these printable calendars help you get a little more excited about the month of March! As always, I have created both a PDF and a JPG version of each of the printable March 2016 calendars.
I hope you enjoy these designs and find them fun and useful. If there are any other designs you would like to see, please feel free to let me know.
Printable March 2016 Bank Calendar Page
You can decorate this March 2016 calendar any way you like. You can write notes in the top section or take note of special events. You can also doodle on it or decorate it using whatever craft supplies you have on hand.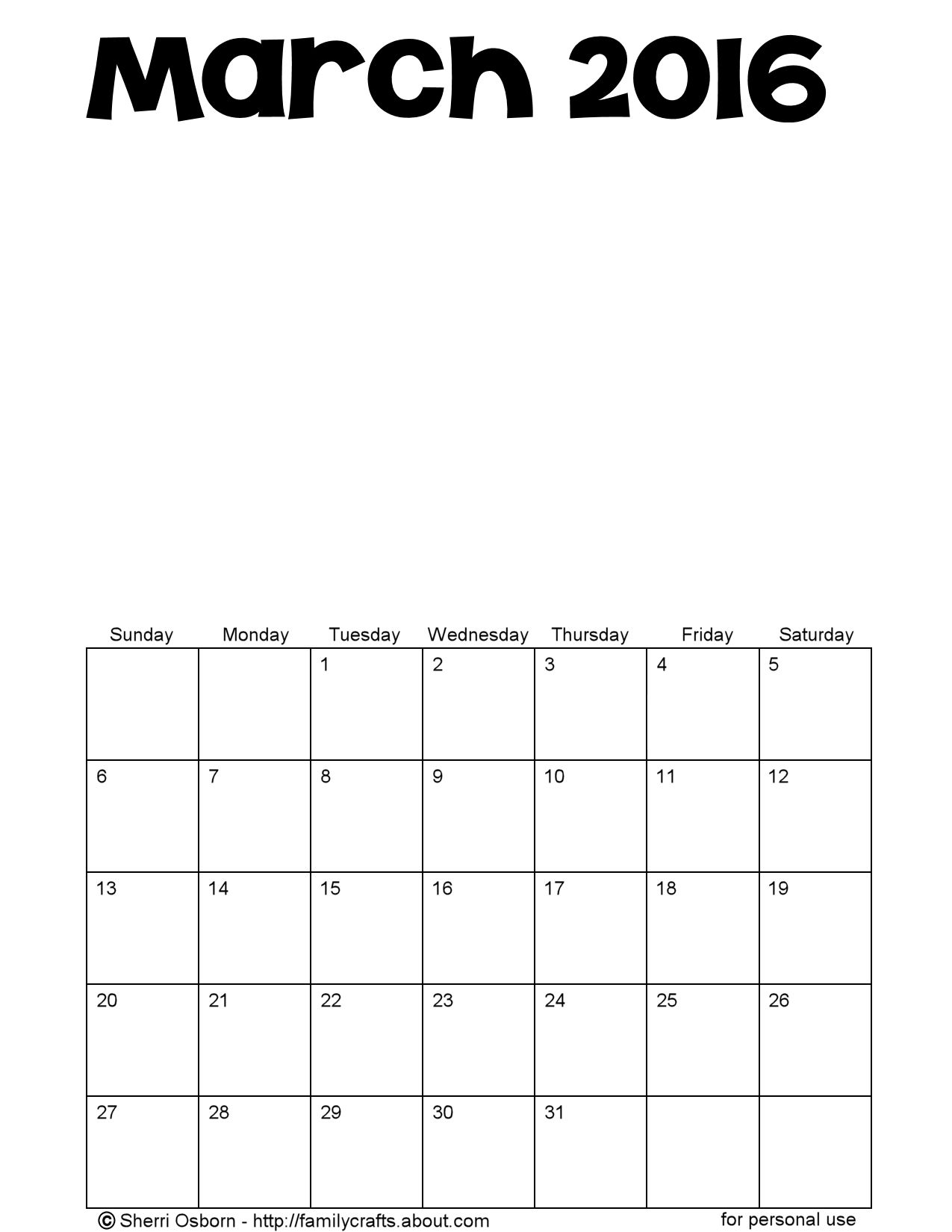 Download:
| PDF | JPG |
Printable March 2016 Special Days Calendar Page
Consult this list every day to find a different reason to celebrate. You can celebrate the usual March special days, like Saint Patrick's Day and the first day of spring, and more unusual special days, such as Doctor Day and Learn About Butterfly Day.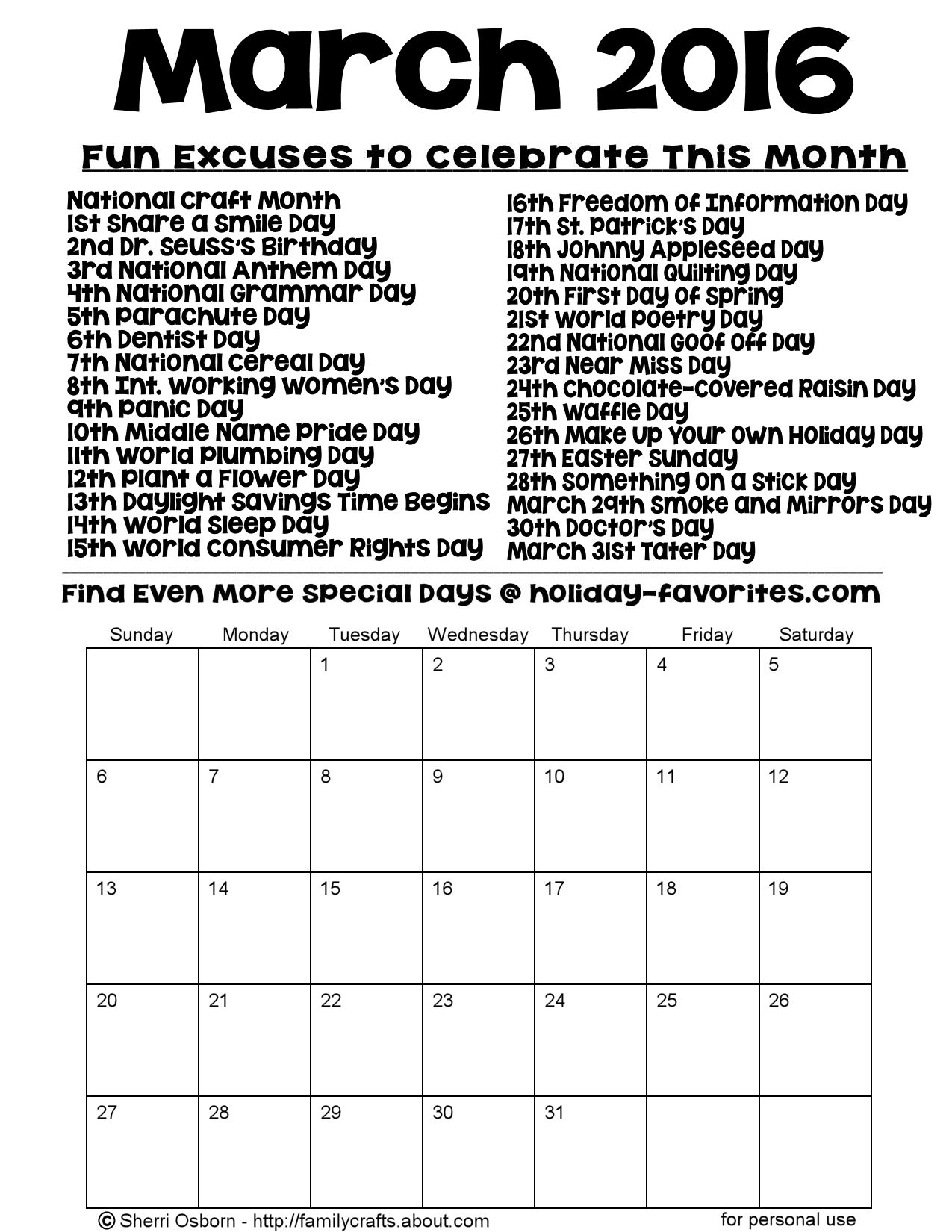 Download:
| PDF | JPG |
Printable March 2016 Shamrock Coloring Calendar Page
Saint Patrick's Day is on March 17th. If you love this special day and want some Saint Patrick's Day fun, print out this coloring calendar that features two silly shamrocks.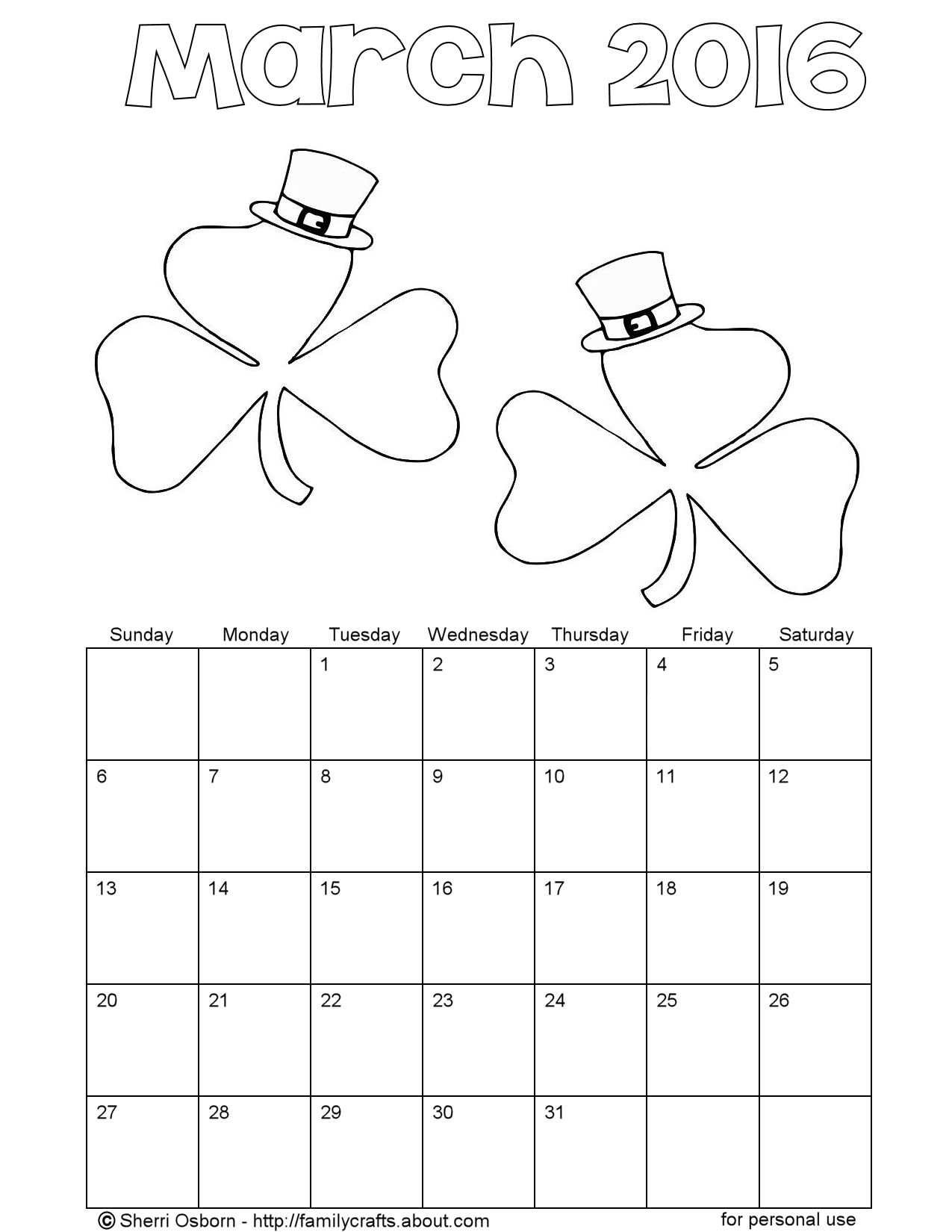 Download:
| PDF | JPG |
Printable March 2016 Pig Coloring Calendar Page
Among other things, March is National Pig Month. Celebrate pigs and the month of March by printing out this coloring calendar page.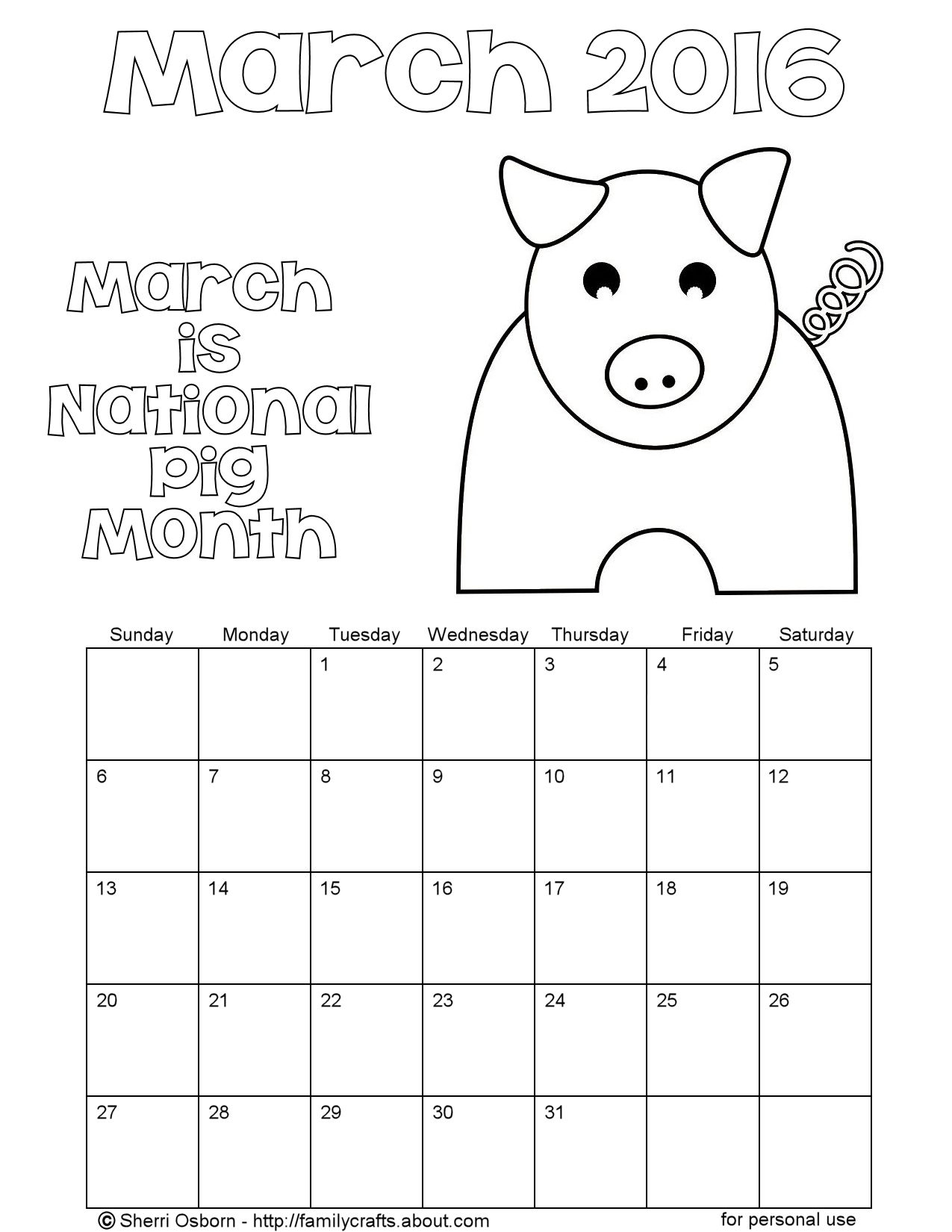 Download:
| PDF | JPG |
Printable March 2016 Flower Coloring Calendar Page
The daffodil is the official flower of March. For this reason, I created this coloring page featuring a few daffodils. These flowers are usuaaly yellow ro white, but you can color yours whatever color you want.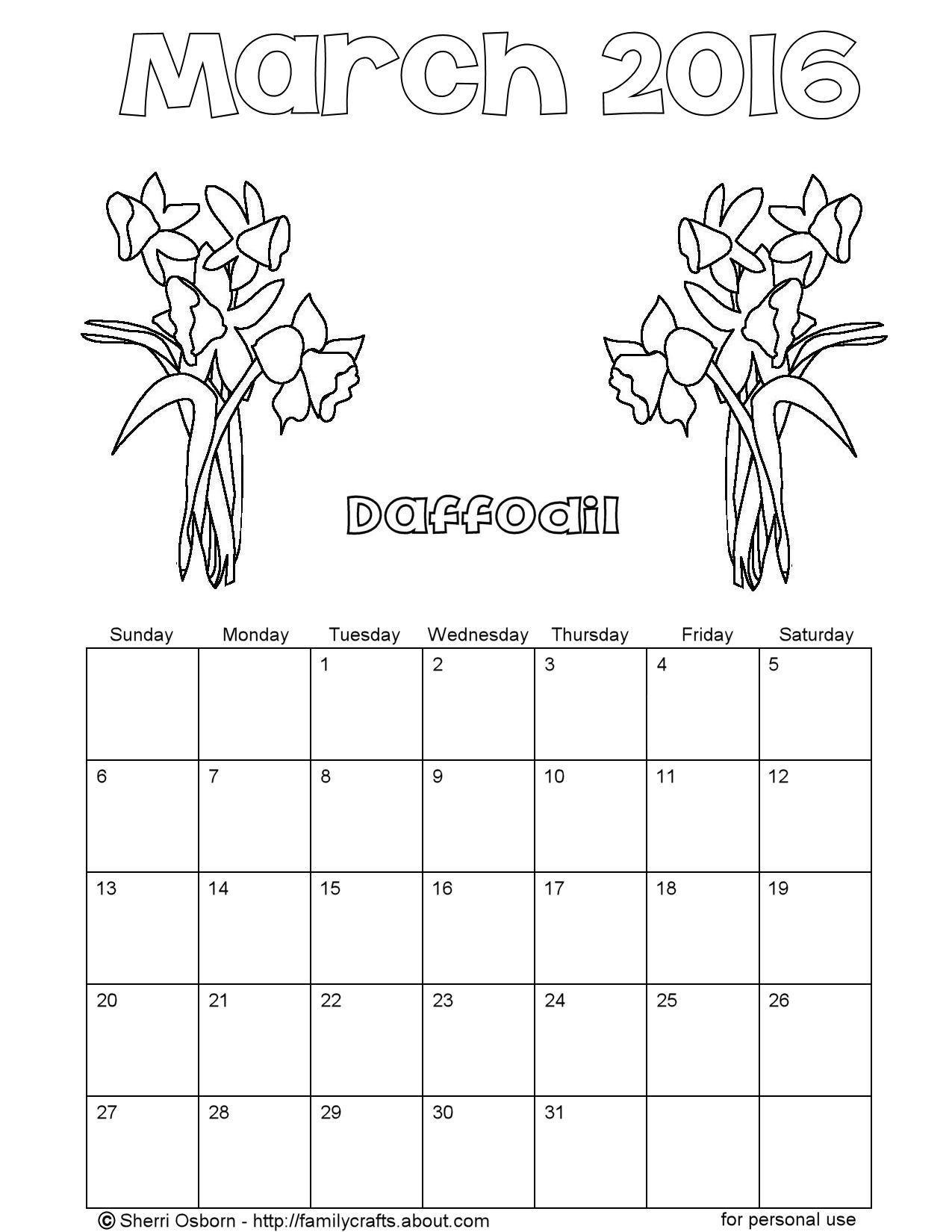 Download:
| PDF | JPG |
If you are looking for calendar pages from other months of this year, you can find them here:
I also have these free calendars which feature all of the months on a single page: 2016 Printable Calendars