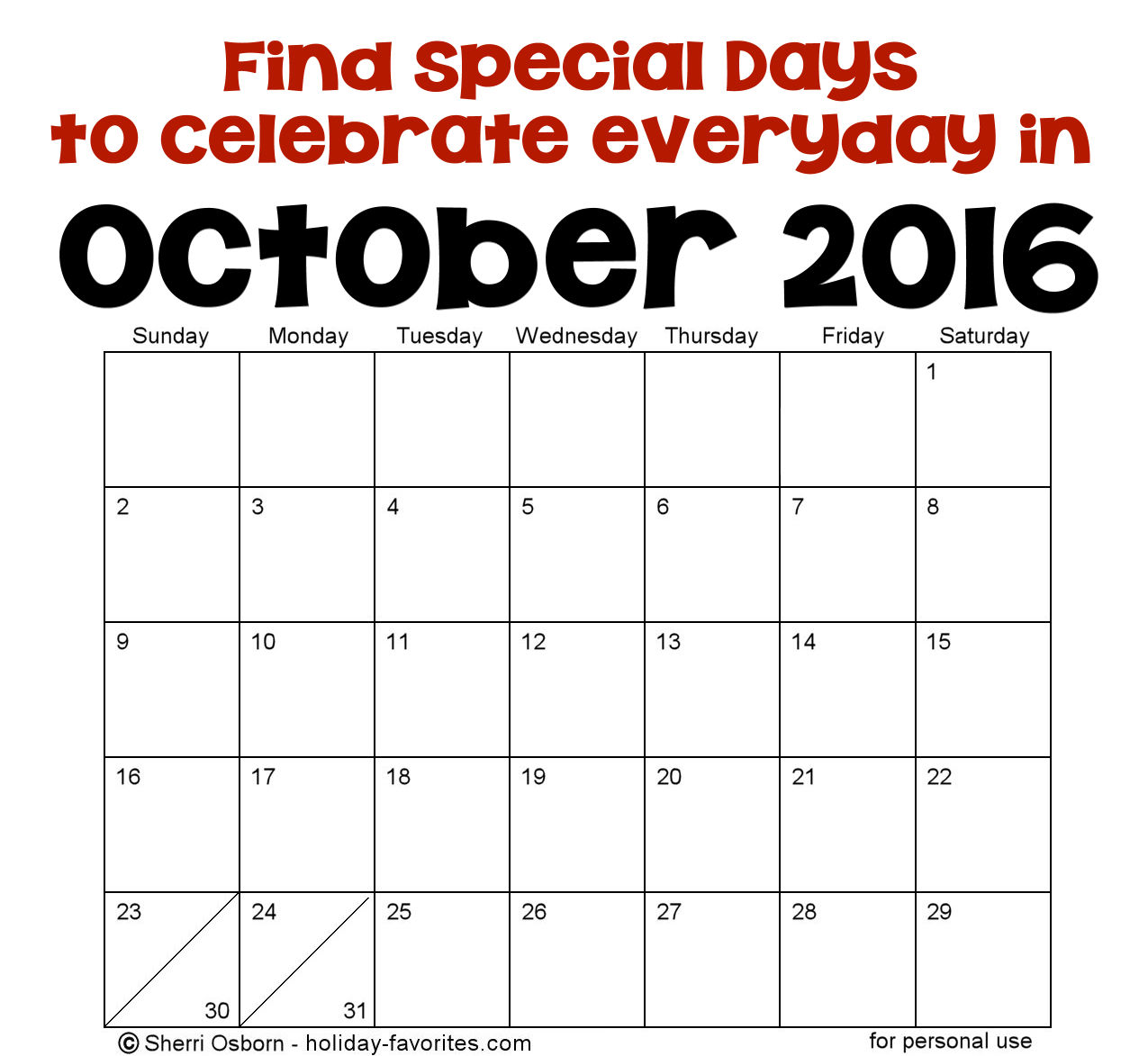 While most people's favorite October holiday might be Halloween, there are plenty of other great reason's to celebrate this month. On October 5th you can honor your favorite teachers because it is World Teacher Day. You can be grouchy, or try to cheer up a grouch, on October 15th which is National Grouch Day. How about having some sweet fun on National Candy Corn Day on October 30th.
There are so many fun reasons to celebrate, where will you begin? Before you browse this list, make sure you click on and download the calendar page here so you can right down all of the dates you want to remember. If you want even more printable calendar options, check out this collection of Printable October 2015 Calendars.
Month Long Observances in October
Week Long Observances in October
October 1st
October 2nd
October 3rd
October 4th
October 5th
October 6th
October 7th
October 8th
October 9th
October 10th
October 11th
October 12th
October 13th
October 14th
October 15th
October 16th
October 17th
October 18th
October 19th
October 20th
Mickey Mantle's Birthday
Born on this day in 1931 in Spavinaw, Oklahoma.
Monster Mash Day
On this day in 1962 the Monster mash, by Bobby "Boris" Picket and the Crypt Kickers, reached number 1 in the music charts and stayed there for 2 weeks!
 October 21st
October 22nd
October 23rd
October 24th
October 25th
October 26th
October 27th
October 28th
October 29th
October 30th
October 31st
I sure hope your family enjoys celebrating many of these special days this month. If you know of any other holidays that should be listed here, please feel free to share them!