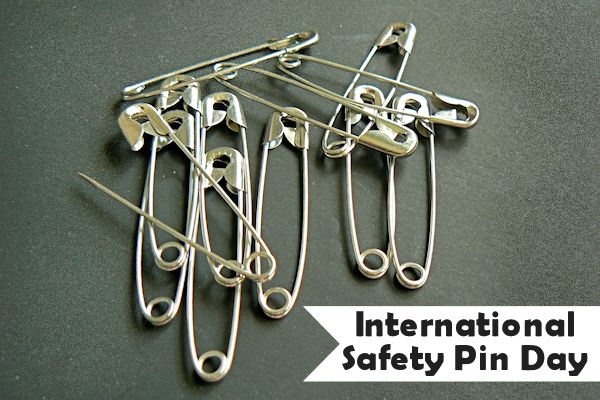 April 10th is International Safety Pin Day. On this day in 1849 a patent was granted to Walter Hunt for his safety pin invention. From what I have read, he accidentally invented it while he was twisting around a piece of wire trying to think of a way he could pay off a debt to a friend. He got the patent and sold it  W.R. Grace and Company for $400.
While you might not think a safety pin is a fun reason to celebrate, I would challenge that! Do you know there are lots of wonderful things to do with safety pins? For example, you can use safety pins to attach socks together before you wash them which makes it way easier to sort them when the laundry is done. They are also useful as part of a mini survival kit. As far as I am concerned though, the best way to use safety pins are with beads.
Quite awhile ago I spent a lot of time playing around with safety pins and beads to make fun jewelry. You start off with about a dozen safety pins and then fill them up with seed beads to make fun designs.
I wish I had a picture of the finished pins, but I can't find a one any more! All I have is more than a hundred patterns, and you can find them all (like the owl here)  posted in this collection on About.com along with step by step directions.