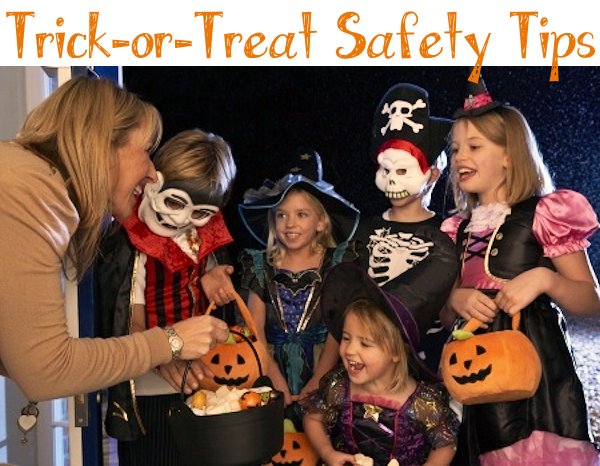 Kids are so excited to get out trick-or-treating on Halloween night that you should plan ahead and go over these Halloween safety tips before you leave the house.  Many of them are common sense, but sometimes common sense gets thrown out the window when the excitement level is too high!
To make sure your family has a safe Halloween, follow these great tips for before, during, and after trick-or-treating.
Before you Leave the House
Remind your children of important safety rules.
Make sure Halloween costume accessories are safe. Swords and similar accessories should not be too long that they become a tripping hazard and they should be flexible.
Make sure costumes are flame resistant.
Double check the fit of masks and costumes so last minute adjustments can be made. Make sure they can see well and walk without tripping.
Give your child a flashlight to carry or add reflectors to their costume and even their treat bags.
While You Are Trick-or-Treating
Only go to houses that are well lit.
Never enter a house of someone you do not know.
Stay on sidewalks.
Walk from house to house – don't run.
Always cross the streets on a corner. Cross as a group and look both ways. Never cross the street between parked cars.
Be careful near pumpkins with candles or luminaries.
Don't eat any of the candy until you get home.
Additional Trick-or-Treating Rules for an Older Child
Even if a child is old enough to trick-or-treat without a parent, they should never go alone.  Always go with a group.
Help your child plan their route so you know where they will be. Stress to them how important it is to stick to this route and not take short cuts.
Make sure they have a working (and charged) cell phone in case there is an emergency.
Your should establish a curfew so your child knows what time they are expected home.
Remind them that they should stay with the group, never enter anyone's home, and never accept a ride from someone without your permission.
When You Get Home
Inspect all candy before your child eats it.
Get rid of any treats that can be a choking hazard such as gum, peanuts, hard candies or small toys.
Establish rules for when they can eat the candy and how much they can have at one time.
Make sure you remove any costume make-up before bed time!
I hope your family has a fun and safe Halloween!
Image credit: stockbroker / 123RF Stock Photo