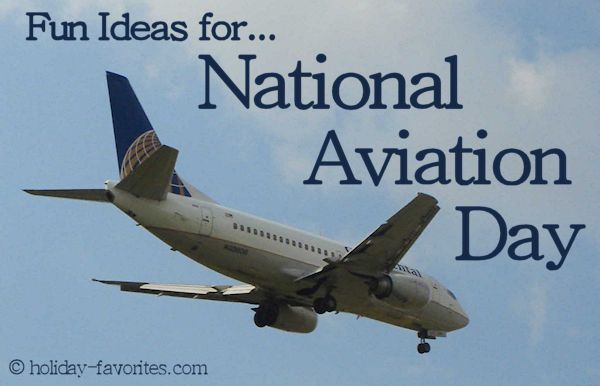 National Aviation Day is observed in the United States on August 19th every year. It was established in 1939 by Franklin D. Roosevelt to celebrate the development of aviation. It is no coincidence that this special day falls on Orville Wright's birthday. Orville, with the help of his brother Wilbur, is credited with being the first person to successfully fly. This flight took place in Kitty Hawk, NC on December 17th in 1903.
This special day is a wonderful reason to learn more about airplanes, and try fun family crafts and activities that are related to airplanes.  These are also great for classroom and youth groups.
Try some of these ideas and then feel free to share your own:
 Aviation Related Activities
Take a field trip to an airport or somewhere nearby where you can watch planes take off and land.
Create a dramatic play area that looks like the inside of an airplane.
Learn more about aviation history.
Aviation Related Recipes
Aviation Related Crafts
Aviation Activities for Groups/Classrooms
Invite a pilot to come and speak
Ask the group if anyone has ever been in a plane. Have them share their experience.
Have the group name things that fly. See how long of a list you can come up with.
 More Aviation Related Fun
I hope you enjoy all of these fun ways to celebrate. Please feel free to share your airplane related ideas also.
Disclosure: As noted above, this post contains affiliate links. See my disclosure policy for details.