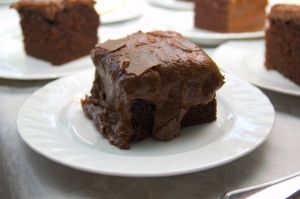 In my book, chocolate cake is a great reason to spend an entire day baking, eating, and celebrating. However, I do have a confession to make. I do not have a great chocolate cake recipe. In fact, I have never tried to make a chocolate cake from scratch. I have always relied on box mixes. I know, I know…  Shame on me.
In honor of this special day, I will perhaps try my hand at making a real chocolate cake from scratch…  of course, I will also accept donations of chocolate cake if anyone has nay extra…  Anyone? Please? Oh well…  I will maybe try one of these recipes:
Anyone have a favorite chocolate cakes recipe they want to share with me? By the way, don't forget to decorate for this special day. Print out and color this piece of cake and hang it up in your kitchen.