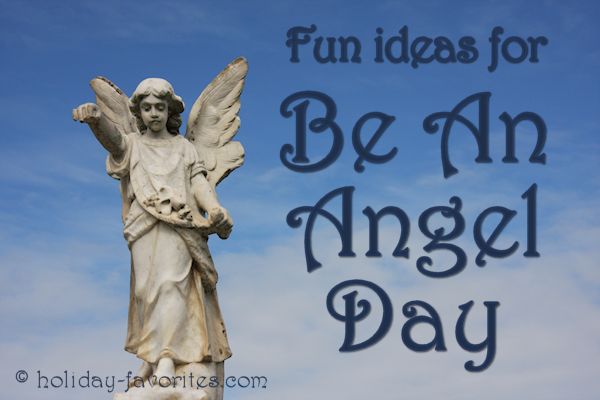 August 22 is Be an Angel Day. The goal of this special day is to encourage everyone to act like an angel by helping others and doing acts kindness. While this holiday does have religious roots, it can be celebrate by people of all denominations and beliefs.
Let's face it, everyone can use an angel at some point in time and this day is a great excuse to be just that.  Not only will the person receiving your gesture of kindness be appreciative, you will fill better for helping someone for no reason.
Besides doing kind deeds for others, you can use these ideas to celebrate this special day with your family, friends, or youth group.
 Angel Day Related Activities
Of course, one of the most obvious things to do on this day is to find people to extend your kindness to. It can be as small as buying someone a cup of coffee or as big to cleaning an elderly neighbor's home.
Encourage anyone you do a good deed for to pass it on.
Learn more about angels.
Print out and try some of these angel themed games.
Try some of these fun, online angel games.
Angel Day Related Recipes
Angel Day Related Crafts
Angel Day Activities for Groups/Classrooms
Ask everyone if they know what a good deed is. Tell about a good deed they did or one that was done for them.
As a group collect and deliver canned goods for a local food shelf or toys and clothing for a local shelter.
After you enjoy this special day, make sure you come back here and tell us about it.  Were you someone's angel or was someone an angel to you?