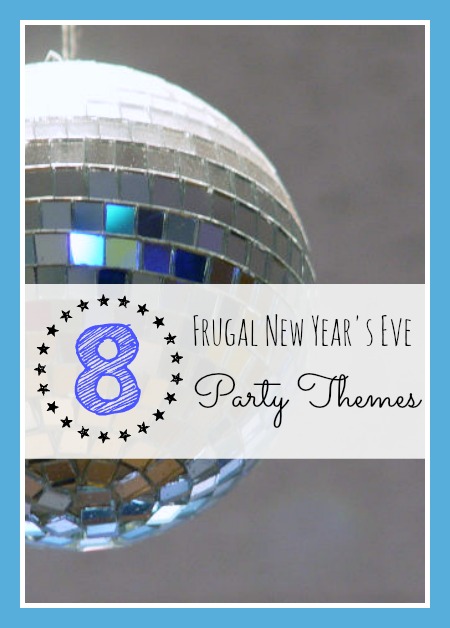 What's a party without a theme? New Year's Eve parties are a great time to do a casual theme that doesn't break the bank. You can do a child's or more family friendly theme or choose an adult only one, and here are 8 themes that are sure to be fun for everyone and not make you go broke into the new year:
1. Gaming Night. What better way to pass time before the ball drops than playing a good old fashioned board game. Have each guest/family bring their favorite game to play and share. Set up several card tables and offer easy, low cost snacks such as pretzels, peanuts and cheese and crackers. Have everyone rotate around the tables, if there is time, so everyone can try each game.
 2. Guilty Pleasure Party. Many people give up sweets, carbs and other "naughty" foods in favor of a diet for the new year. Go out with style by hosting a party where everyone brings their favorite "guilty pleasure" to share. For entertainment, play guilty pleasure music and dance the night away!
 3. New Year's Eve Glow Party: Buy glow sticks at the dollar store and place them everywhere. Make a glowing punch concoction by adding glow sticks under a see-through bowl. (Don't place in the punch though because of leaks that may occur.) Tuck glow sticks into plants, hang them from the ceiling, and encourage your guests to find glow jewelry to wear.
 4. "Be" Your Resolution Party. Ask your guests to show up in costume as their resolution. For instance, if your resolution is to not eat sweets, you could show up dressed as a cupcake. For entertainment, you could have other guests guessing what everyone is dressed as.
5. Go Super Classy with a "Black Tie'" Event. Make everything white, from the plates to the decorations. Have everyone show up in anything that is black or white or both. Serve black and white foods such as black olives, and white cheeses.  "Dress up" some simple foods bought in bulk by serving them in martini glasses. You can get your white decor from most dollar stores as it will be the most common color available. Use white lights left over from Christmas as well as any white decorations you can find on clearance after the holiday.
 6. Country Western Theme. Ask guests to show up in western wear. Decorate using baskets you find at thrift stores as well as simple western touches such as red and white or blue and white checkered cloth. Serve picnic foods such as hotdogs, potato salad and chips. You could also do a chili cook-off. Play country music or, if you have a friend who has a karaoke machine, use it to create your own western bar.
 7. "Kiddie" Sleepover for Adults. One of the best ways to ensure you don't have guests leaving after imbibing is to have them sleep over. Plan for it by inviting a few friends and doing a simple movie night with some of the best movies of the year on DVD. Rent them for a lower cost. Have everyone show up in Pjs. Serve sleepover food such as cheap pizza (or create your own) and popcorn. Have everyone bring their own pillows and sleeping bags.
 8. Throw a Party Honoring a Previous Decade. This is always a fun idea and can easily be planned frugally. Just pick a decade and have everyone dress that decade, play movies or music from that decade and even serve some of the hottest food from that decade if you can.  You could even take it one step further and at midnight, could narrow it down to a certain year — such as 1999!
Are you planning a New Year's eve party? If so, what is your theme?