So, today is Backwards Day and while my first instinct was to try to do the things I would normally do today in a reverse order, such as eating my dinner for breakfast and vice verse, I decided to do a little searching to see if anything else intrigued me. This was, in part, because I really didn't want meatloaf for breakfast.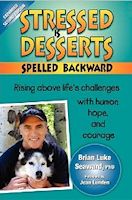 In my ventures around the Web I ran across this book titled Stressed Is Desserts Spelled Backward
(affiliate link). Well, now, this puts my way of thinking about how to celebrate today in a different light.  Let's bake some sweets!
My first thought went to chocolate cake, but we just did that for Chocolate Cake Day on January 27. Don't get me wrong, I wouldn't complain about more chocolate cake, but I thought something different might be nice. Then, I remembered a dessert I had seen on Pinterest… Blueberry Angel Food Cake Dessert.
This recipe calls for only 2 ingredients, a package of Betty Crocker angel food cake mix and one can of fruit pie filling – whatever flavor you like.  It just so happens that I have both of these on hand so I will give it a go and let you know what I come up with.
Want even more desserts? Check out this amazing collection of Slow Cooker Cake Recipes!
Disclosure: As noted above, this post contains an affiliate link. See my disclosure policy for details.