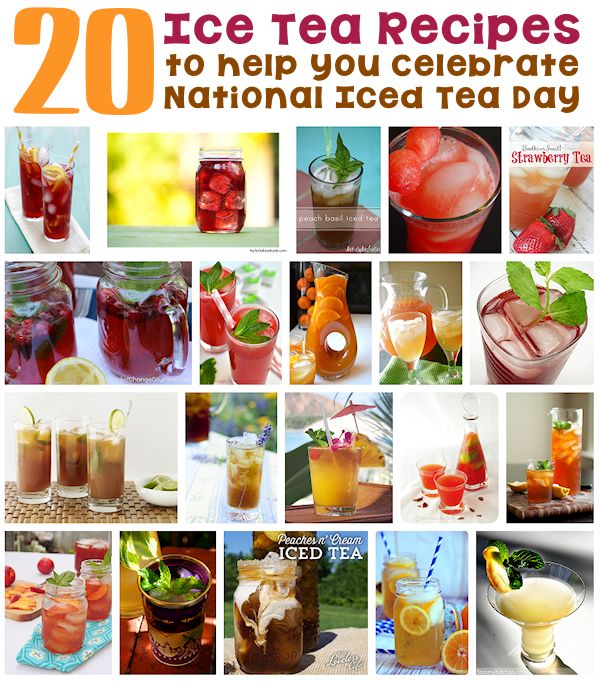 I am a huge fan of iced tea so this special day really piqued my interest! Did you know that today is National Iced Tea Day?
I figured in honor of this special day I would search for a different iced tea recipe I could try every day left in the month of June! Now the only thing I need to do it decide which one to try first.
1 – Tangerine Raspberry Iced Tea Recipe from Good Life Eats
2 – Blue Green Iced Tea from Taylor Takes a Taste
3 – Peach Basil Iced Tea from Dukes and Duchesses
4 – Watermelon Peppermint Iced Tea from Healthy and Gourmet
5 – Strawberry Ice Tea from Passion for Savings
6 – Cranberry Iced Tea from Pocket Change Gourmet
7 – Raspberry Lime Iced Tea from Note Enough Cinnamon
8 – Orange Mango Ice Tea from Tweet and Eats
9 – Vanilla Almond Iced Tea from Macaroni and Cheesecake
10 – Cherry Iced Tea from Saving Dinner
11 – Mojito Iced Tea from Above and Beyond
12 – Lavender Iced Tea from Kees to the Kitchen
13 – Pineapple Iced Tea from Food so Good Mall
14 – Rose Syrup Iced Tea from The Creative Spot
15 – Rhubarb-Mint Iced Tea from Passports and Pancakes
16 – Nectarine Basil Iced Tea from What She's Having
17 – Mint and Ginger Iced Tea from Cook Almost Anything
18 – Peaches N' Cream Iced Tea from Loveless Cafe
19 – Meyer Lemon and Jasmine Iced Tea from U Try It
20 – Apple Ginger Mint Iced Tea from Steamy Kitchen
Which one of these recipes will you try first?