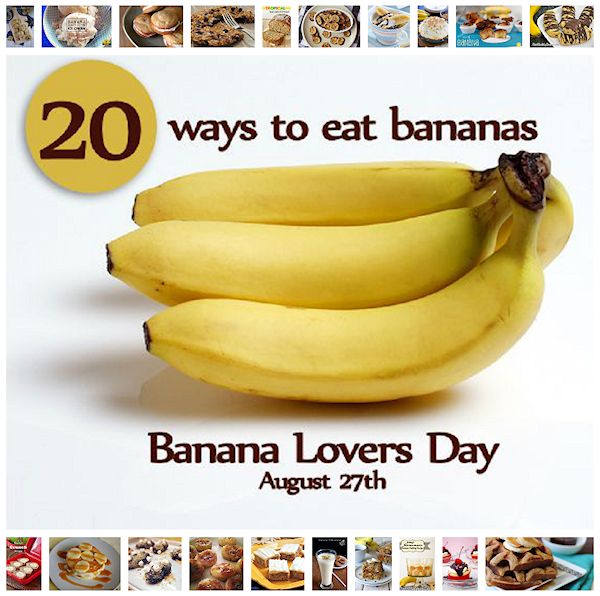 August 27th is Banana Lover's Day. Bananas are very nutrient dense "power food" and they are a great source for fiber, potassium, manganese and vitamins B6 & C. Besides all of that, they taste great! The average person eats about 30 pounds of bananas a year. The average banana weighs about a third of a pound so that is about 90 bananas per person.
Since you are probably going to eat about 90 bananas this year anyway, why not try some of these amazing recipes? You can pick one to make for Banana Lovers Day, and then save the rest to make throughout the year.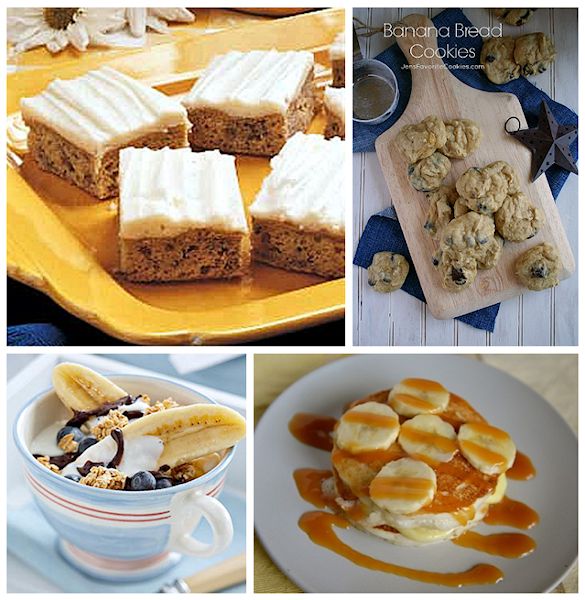 1 – Banana Bars with Cream Cheese Frosting @ Taste of Home
Next time you have some over ripe bananas, make bars instead of banana bread.
2 – Banana Bread Cookies @ Jen's Favorite Cookies
Very ripe bananas and dark chocolate chips sounds like an amazing combination to me.
3 – Banana Breakfast Sundaes @ Recipes.com
Discover how easy it is to make this sundae using ordinary breakfast items — and chocolate!
4 – Banana Caramel Pancakes @ Just a Pinch
If you are a fan of IHOP's banana caramel pancakes, you have to try this recipe.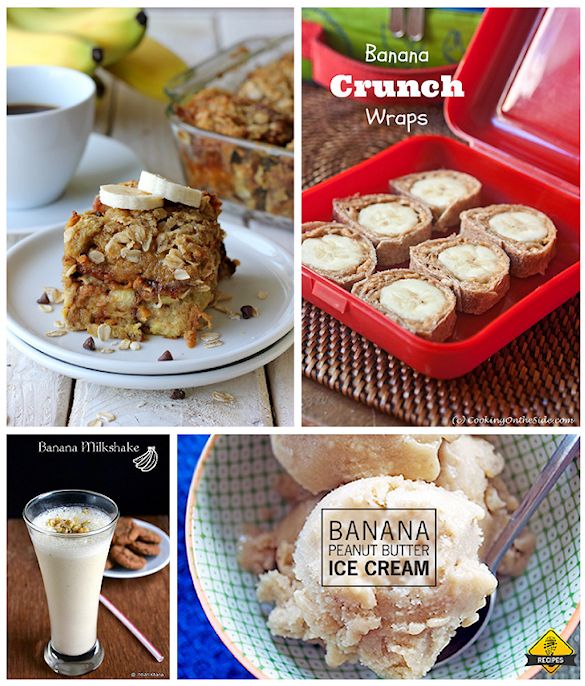 5 – Banana Chocolate Chip Baked French Toast @ Dinners, Dishes, and Desserts
Such a wonderful combination that is perfect for breakfast or anytime.
6 – Banana Crunch Wraps @ Cooking On the Side
You actually have to download the back-to-school lunch recipe e-book to get this recipe, but it is free!
7 – Banana Milkshake @ Indian Khana
This sweet treat is perfect for breakfast or a snack.
8 – Banana Peanut Butter Ice Cream @ Walk Jog Run
This recipe not only contains healthy ingredients, it is vegan and gluten-free.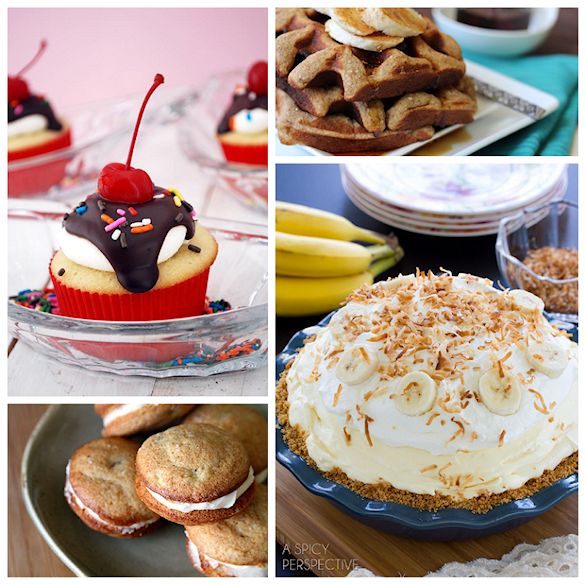 9 – Banana Split Cupcakes @ Cake and Allie
The combination of ingredients that go into this cupcake, and that go on top of it, sounds mouth-watering good.
10 – Bananas Foster Whoopie Pies @ A Cup of Sugar … A Pinch of Salt
The filling for this whoopie pie sold me on trying it, it is made using cream cheese, sugar, caramel sauce, rum, and banana liquor.
11 – Cinnamon Banana Waffles @ Pale OMG
Learn how to make a waffle batter out of bananas, cinnamon, and many healthy ingredients.
12 – Fluffy Banana Cream Pie @ A Spicy Perspective
I think you will have to agree that this pie looks delicious.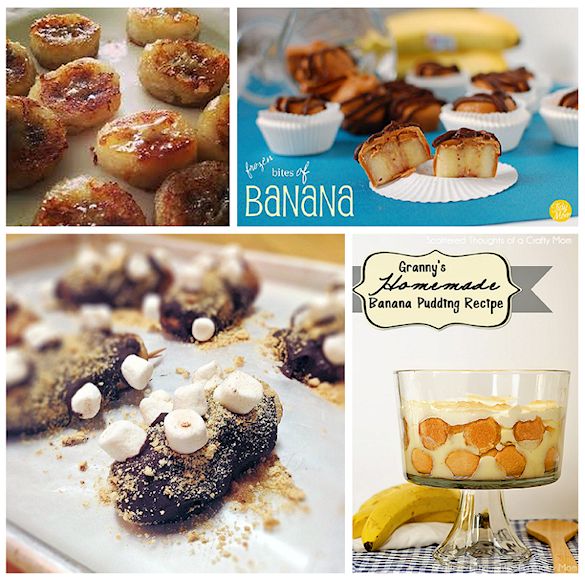 13 – Fried Honey Banana Recipe with Cinnamon @ Hive and Honey
I think this is probably one of the few recipes where you can use the words fried and healthy together.
14 – Frozen Peanut Butter Banana Bites @ Tidy Mom
Drizzled with chocolate, these frozen bananas that are covered in peanut butter candy look amazing.
15 – Frozen S'More Banana Pops @ Alli 'n Sons
Everyone in the family will enjoy rolling up their sleeves to help make these fun treats.
16 – Homemade Banana Pudding @ Scattered Thoughts of a Crafty Mom
Learn how you can turn bananas into a creamy pudding.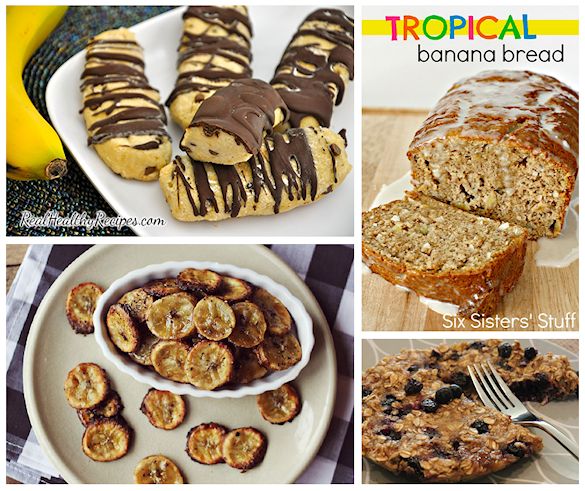 17 – Microwave Blueberry Banana Oat Cakes @ Avery Cooks
This recipe calls for a banana, dry oats, brown sugar (optional), cinnamon, and blueberries.
18 – No Bake Banana Chocolate Chip Protein Bars @ Real Healthy Recipes
I think the name of this recipe pretty much explains it.
19 – Sweet & Salty Banana Chips @ A Beautiful Mess
You can make this crunchy banana snack in the oven in about 20 minutes.
20 – Tropical Banana Bread Recipe @ Six Sisters' Stuff
Try this banana bread recipe that has you stirring in some coconut and pineapple.
Will you try any of these recipes in honor of Banana Lovers Day? Which one sounds the best to you?