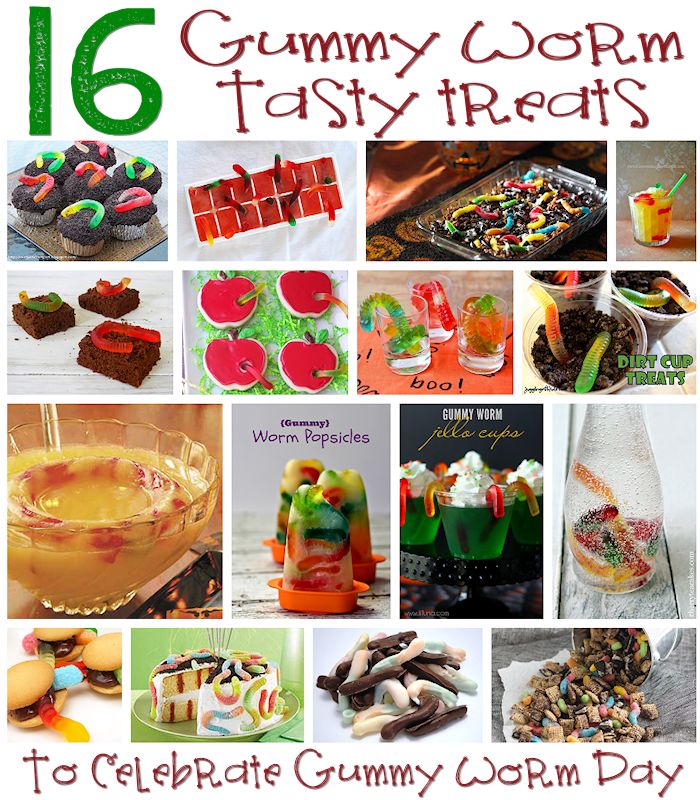 July 15th is Gummy Worm Day. I am not sure why this day was picked to celebrate gummy worms, but I wont question it! Instead, I will just take some time today to enjoy some gummy worms by making one or more of these amazing recipes!
Before we jump into the goodies, I thought maybe you would like to learn a little more about gummy worms… Gummy worms were developed by German company Trolli in 1981. They were a fun way to entice kids and gross out parents.
Gummy worms are made out of gelatin, amongst other things. I won't go into what gelatin is made out of because it makes me not want to eat it at all! You can even make your own gummy worms at home, although they may not be the same!
Now onto the treat. There are plenty of way to enjoy gummy worms besides just simply popping them in your mouth. You can bake with them, freeze them, or mix them in with your drinks!
1 – Gummy Worm Cupcakes from Curry and Comfort
2 – Gummy Worm Ice Cubes from Babble
3 – Earth Worm Delights from Kelloggs
4 – Gummy Worm Slushy from In Between Laundry
5 – Wormy Dark Chocolate Brownies from Spoonful of Flour
6 – Apple Cookies from Red Couch Recipes
7 – Vodka Gummy Worms from Better Recipes
8 – Dirt Cup Treats from Juggling with Kids
9 – Gummy Worm Punch from Taste of Home
10 – Gummy Worm Popsicles from Growing Up Gabel
11 – Gummy Worm Jelly Cup from Lil Luna
12 – Gummy Worm Soda from Cherry Tea Cakes
13 – Worm Burgers from Trusper
14 – Gummy Worm Cake from Taste Book
15 – Chocolate Covered Sour Gummy Worms from The Cereal baker
16 – Dirt and Worms Chex Mix from Betty Crocker
Which one of these sweet treats will you try in honor of Gummy Worm Day?